Here are the functional fireplace accessories. You know, the ones that enable us to actually have a real fire, not just the pretty ones on the mantle (those are coming soon). See how we got here with
this post.
The grate inside is from Amazon (find it
here
).
The tools are also from Amazon (
here
). Gosh, I love Amazon Prime. The free two-day shipping, especially for heavy items, makes my heart sing.
The screen is from Restoration Hardware (
here
). We love the industrial look, plus it's easy to move, the handles and screen don't get hot when there is a fire, the prefect blend of form and function.
For the kitchen fireplace, we have yet to buy a grate. My husband wants one "just in case" which makes no sense to me, since when will we need to have a fire there? If the heat goes out (which it already has), the house is built into the hill enough, and we get enough southern and western sun during the day, that at night it only got to 62 degrees inside. Plus we live in Northern California, not exactly expecting snow, or single digit temps any time soon.
I played around with what to do inside the fireplace box. I liked things like this:
But once I read more about them, I realized it would just harbor spiders, dust, cobwebs, the tiny plastic fruit from Hi Ho Cherry-Oh, Barbie shoes, etc. So I tired this look:
I apologize for the photo, I took it without trying to focus on this particular detail. It is a collection of branches that my husband brought in from the upper hillside in our yard, then tied together in a teepee for with some Tiffany blue ribbon. Plus I added two sprays of cinnamon branches from Trader Joe's, just for the olfactory effect.
I was OK with the whole look, but had been dreaming of a pretty, feminine screen. Something that I wouldn't have to take down the minute our new baby started crawling and trying to shove the branches into her mouth. Here is my inspiration.
But at $625 it was too expensive, plus it doesn't actually have a *screen*, so it wouldn't be useful in our "just in case" scenario. So I narrowed the options down to two screens, both from Pier One.
I let my husband choose. I think he did a great job, especially since we were in Pier One with 2 preschool aged kids, a seven week old baby, and did I mention it was January 2nd? Apparently that is the new Black Friday, because even at 10am, the store was packed, everything was on sale, and my kids were in love with every shiny, sparkly, glittery, smelly object in there (which is pretty much everything).
Linked to:
It's Our Long Story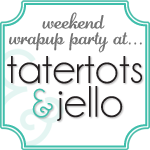 Pin It